Next events
7th April 2023 at 9pm, Archipel Festival - Grande Salle, Geneva
Re-Ghoster Extended - Archipel Festival
Dreaming with the lights on (2023) - Commissioned by Archipel Festival
Legos, Lagos, Logos (extended version)
Improvisation from Extended-Impressions

On the border between written music and improvisation, Re-Ghoster deploys its sounds on a double trajectory, that of acoustic instruments put under tension in a medium replicated by that of a tape recorder, an imperfect echo whose voice whispers and remembers these past moments. A five-person conversation crackles and blows, from which one struggles to distinguish what is haunting and what is haunted.

This concert is also an opportunity to discover Nicolas Field's new piece, Dreaming with the light on, commissioned by the Archipel festival.


Nicolas Field : drums, electronics
Thomas Florin : piano
Jérôme Noetinger : electronics, Revox tape recorder
Nate Wooley : trumpet
Fritz Welch : voice


In co-production with Konnekt

Dreaming with the lights on was supported by the Nicati - de Luze
Foundation
8th April 2023, Mill, Brussels
Re-Ghoster Extended - Mill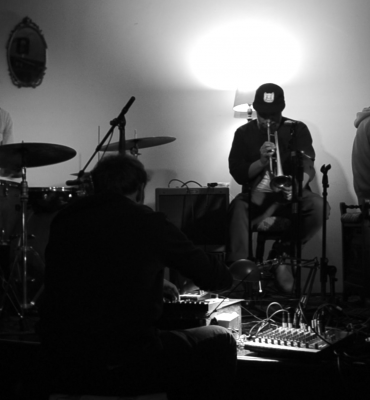 Re-Ghoster grew out of a chance encounter between Anglo-Swiss percussionist Nicolas Field, Italian tape & electronics wizard Valerio Tricoli and Swiss pianist Thomas Florin in Geneva in 2018. They quickly discovered a like-minded longing to experiment and distort sound textures in new ways, to explore compositional concepts by using improvisation and the impulse of the moment. They decided to let their strong personalities clash. Re-Ghoster was born and as a trio, they released a first album – 'Or Not All' - in 2019.


Embracing Re-Ghoster as a constant evolutionary process and always on the lookout to extend the potential and creativity of the project, the trio invited American trumpeter Nate Wooley and Anglo-American vocalist Fritz Welch - two major artists of the experimental scene - to join them in 2021 on the occasion of a tour in Switzerland and the UK with venues like Cave12 in Genève and Café OTO in London. This quintet format was baptized Re-Ghoster Extended. In 2023, Re-Ghoster Extended will record a new album and they are invited by Swiss Festival Archipel for a special creation.


To conclude their reunion at Festival Archipel, the quintet – with Jérôme Noetinger replacing Valerio Tricoli for this occasion - will perform exclusively in MILL on Saturday, 8 April 2023. Expect acoustic instruments being fed to tape, magnetised, digested, re-eaten, reworked and regurgitated again by the machine. Expect ghostly bursts and roars emerging from nothingness. Expect chirps and shrills exploding in tension with each other. Expect a quest into the depths of sound by a quintet of extraordinary experimentalists.


Nicolas Field : drums, electronics
Thomas Florin : piano
Jérôme Noetinger : electronics, Revox tape recorder
Nate Wooley : trumpet
Fritz Welch : voice
13 avril 2023 à 21h
Jazztronica #1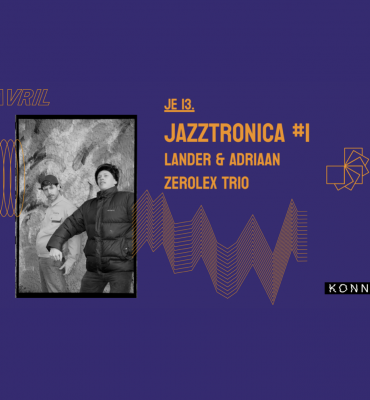 The association Konnekt & the Collectif Nocturne present a new event that honours this emerging and futuristic scene that mixes jazz and electronic music.
If each musical genre is a language, the artists of this evening are certainly polyglot. The experiments of Zerolex Trio, equipped with a saxophone, a double bass and electronic machines. Then the connivance of the synths and drums of the Belgian duo Lander & Adriaan. An irresistible call to dance!

Production: Konnekt x Collectif Nocturne

𝗟𝗮𝗻𝗱𝗲𝗿 & 𝗔𝗱𝗿𝗶𝗮𝗮𝗻
Lander & Adriaan is a Belgian duo consisting of drummer Lander Gyselinck (Stuff.,Beraadgeslagen,LABtrio) and Adriaan Van de Velde (Pomrad, Mauro Pawlowski, J. Bernardt).
Their shared penchant for digital synths and 90s alternative dance brought them together for the first lockdown in 2020 for some fiery jams. After a series of successful gigs, they recorded an album in the summer of 2021, which was released in the spring of 2022.
They mix, merge and distort Chicago juke, Detroit techno, UK Funky and rave music with the diversity of jazz; they take you into a world of unabashed pleasure, assumed weirdness and pure excitement. They call it 'Post Nudism Rave'. Others call it free rave or sophisticated rave. What is certain is that their music creates an imaginary world that has as many fairy meadows populated by goblins as it does dark underground tunnels filled with slimy aliens and stinking trolls. You'll experience the quantum chills of interplanetary ambient drones, soft frenetic percussion, sweet pulpy melodies, soggy bass lines, all delicately woven into a raw, oozing music that calls for dancing!

𝗭𝗲𝗿𝗼𝗹𝗲𝘅 𝗧𝗿𝗶𝗼
Already noticed for his first records on Eklektik and Cascade Records, Zerolex has also proven himself as a band with Cotton Claw (Laureate Fair, Prix Chorus and Inoui PdB, Opération Iceberg, Eurosonic). Since the EP "Touché-Coulé" in 2019, Zerolex has been exploring a new playground, and has taken the form of a trio, with Claudio Ibarra on double bass and Chromé, on saxophone and composition, now accompanying him on stage.
With its jazz and electronic influences, Zerolex now leaves more room for harmonies and choirs, combining the warmth of analogue synths with the organic sounds of traditional instruments. The release of the single "Le Temple / Le Nectar" on BMM Records in 2021 marks the tenth year of activity for the Bisontin producer, who is always eager to take new directions.

Start : 9:00pm
Doors: 8:30 pm
Price 20 CHF - Get a ticket
9 Rue des Gazomètres, 1205 Genève
Parking des Gazomètres ou Finances (2 CHF/EUR la nuit)
Tram 14, Palladium or Jonction
16th-23rd May 2023, Japan
Field-Dikeman-Florin Japan Tour 23
The trio Field-Dikeman-Florin will be touring in Japan to present their first album "Drag it to the bottom" (577 Records) with some guests artists like legendary Akira Sakata.


16.05 Airegin, Yokohama + Akira Sakata
17.05 Yagisawa (Izu) + AkiraSakata
18.05 Big apple, Kobe
19.05 Livehouse bird, Okayama
20.05 Sousaku (Takamatsu) + Haruhiko Okabe
21.05 T-Bone Studio, Osaka + Loui Yoshigaki and Rabito Arimoto
22.05 Jazz Spot Candy, Chiba
23.05 Koen Dori Classics, Tokyo
27th May 2023, Le Groove, Geneva
Matmos & Jeff Carey - Concert night in Geneva
In partnership with Collectif Nocturne and La Becque, Konnekt is delighted to welcome the legendary duo Matmos and sound artist Jeff Carey.
This festive evening will feature the duo, who have not been in the region for 15 years, in a multi-channel sound and light show.
More infos soon !
31th May 2023, La Becque, La Tour-de-Peilz
Matmos & Jeff Carey- Concert and talk at La Becque
The arrival of Matmos in Switzerland is a rare and precious thing. It is therefore only natural that Konnekt and La Becque present an exclusive open-air event in the garden of the artists' residence in La Tour-de-Peilz. Matmos will present the fruit of their residency - a quadraphonic creation - and will lead a discussion/workshop open to all.
Détails soon
Bruits de couloir - second phase
Infos soon
Phoniculture - Sound out !
Infos soon
Graskop-Listen to it
Past events